Dearly respected Lions,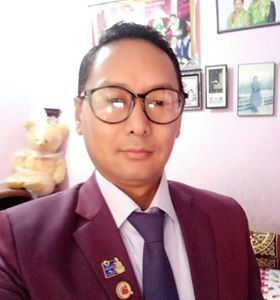 It's a great privilege to have the opportunity to be president of the Lions Club of Pokhara Annapurna . I would like to thank our club's past presidents, club officers and members for your valuable support and fellowship this year.
We are at the halfway point of the Lion Year 2018/2019. I would like to take this opportunity to present the theme given by the District 325B Nepali Governor, which is 'living by giving'. This theme reflects our duty to give through social service while we are living on this earth. The priority mission for this year is aid for the disabled, including those living with disabilities, those living in wheel chairs, with hearing aids or with white canes or cleft palettes. Our international theme for this year is 'beyond the horizon.' 
I would like to take this opportunity to serve this year in the social service. Likewise, Lions with disability, wheel chair support, white cane support, hearing aids support, cleft lips cure etc. to support District 325B Nepal governor theme "Living by giving" & International President's theme "Beyond the Horizon"
Since our club was established on 6th January 1988, our main goal was to focus in the field of social work, such as education, health, drinking water & the environment.In this year, our club has completed various projects, including the Narchyang Health Post building, supported by the American Nepal Medical Foundation, many drinking water tank construction projects in various government schools, with the support of various senior schools and colleges from Australia and UK, and scholarship distribution to those orphans, semi orphans, single woman's families and disabled children. 
In the beginning of the season of my tenure, we had already completed the free mega health camp at Dumre, Tanahun, with technical support from Fishtail Hospital & Research Center, as well as help from professors and nurses from CQU Australia. Therefore my theme in this year is "together we can."
Please support each other. We are in the beginning session of the century, plus year 101 in the field of social work. Therefore, I would like to dedicate this year for the same purpose.
Lastly, I would like to thank my club's past presidents, club officers, members and various national and international donors. I look forward to receiving the same cooperation and teamwork as in the past.
Thanking you,
Lion Dinesh Tulachan
President L/Y 2018/19
Lions Club of Pokhara Annapurna