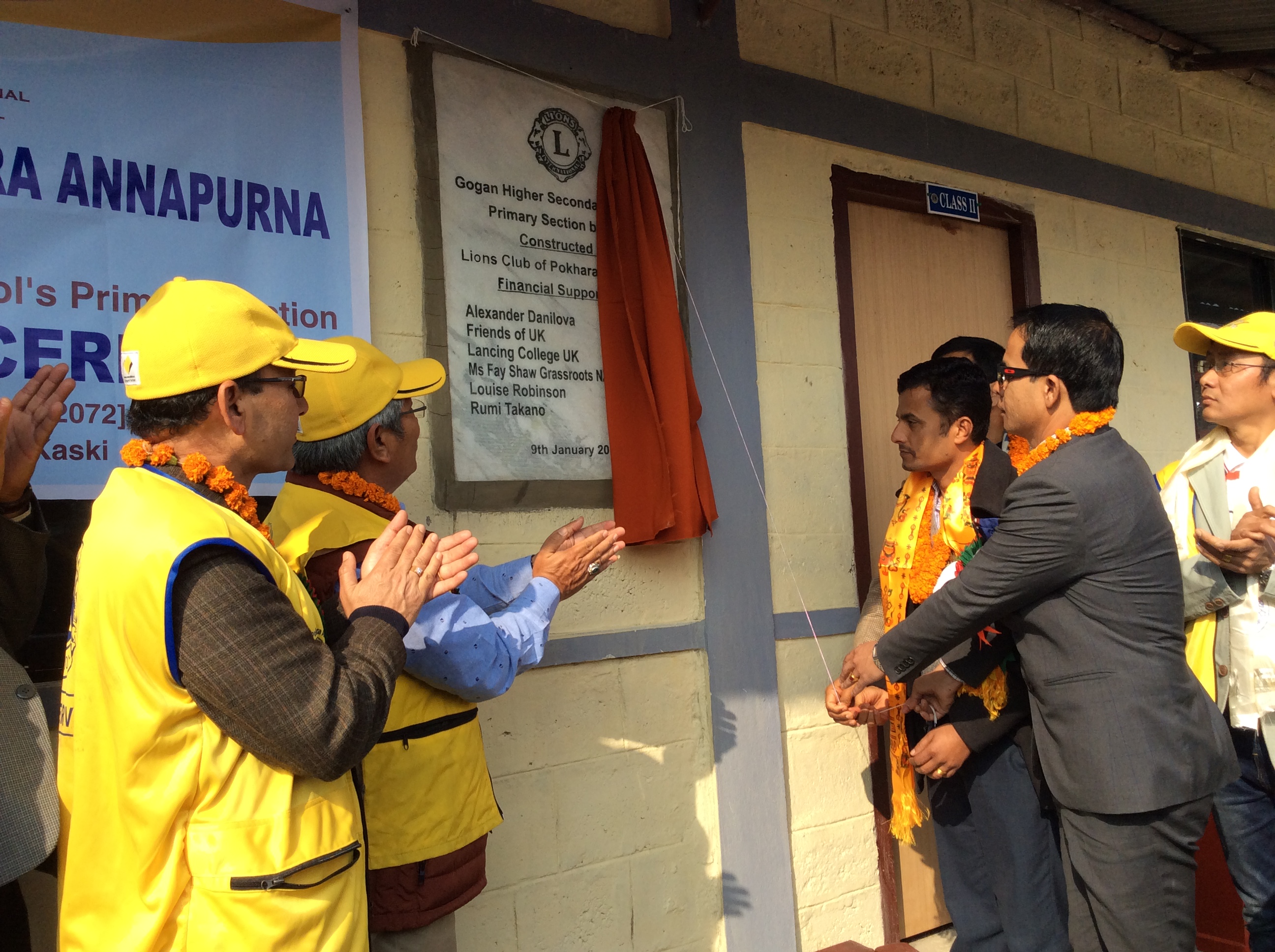 The deadly earthquake that hit Nepal on the 25th of April, 2015 was the worst natural calamity since the 1934 Nepal-Bihar earthquake. Measuring 7.9 on the Richter scale, it devastated the country, Multiple avalanches were triggered, centuries old UNESCO World Heritage sites were destroyed, and more than 7000 people were killed. Over 17000 people were injured. Aftershocks rippled through the country, with a second quake, measuring 7.3 on the Richter scale, happening in eastern Nepal on the 12th of May. Over thirty people were killed and 1000 people were injured.
The Lions Club of Pokhara Annapurna has requested the support of all our friends, stakeholders and supports for reconstruction and rehabilitation efforts for those badly affected by the earthquakes. Many have come up with huge amounts of duding at our request. Our long-term mission is to offer collective support towards the rebuilding efforts of the affected communities.
We have started these rebuilding efforts  at Gogan Higher Secondary School, as students were studying under temporary shelters after their classrooms collapsed. We have built a new building housing four classrooms. While we planned to finish this school within forty five days, Nepal-India border crises caused a shortage of construction materials. We were able to construct this school within eighty four days. The total cost was 846,845.52 rupees. Handover occurred on the 9th of January, 2016.
The funds for this project were donated by individual friends and well wishers. Without their support, this would not have been possible. During the construction, we were assisted by volunteers from Lancing College, in the United Kingdom, who did the primary wall construction. Volunteers from Brynteg School, in the United Kingdom, painted the building. Brynteg School has also donated 398.3 rupees for school furniture.
This program was inaugurated by our Lions District Governor PMJF Lion Dhrubha Thapa. This school building will protect the children from the cold season while they study. The program was presided over by our club president, Lion Krishna Prasad Shrestha.
While we would like to do a lot more to support the villages in need, in reality, all our endeavours depend on how much funding we can raise. Your support means a lot, especially at this very difficult time. We are grateful to everyone for their generosity. If you are able to support us, please do.